Home
Kiley Anne
Kiley Anne was born prematurely in October of 2007, with many major medical issues such as myelomenigocele, fetal hydrocephalus, and profound deafness. From birth she has been paralyzed and will be wheelchair bound for life. Mobility for children such as Kiley can be difficult and expensive for any family.
Kiley gets around in her little pink wheelchair and is one of the happiest children you will ever meet! She attends a program for the deaf and hard of hearing and is doing very well. Mobility for Kiley Anne has been a major factor in her personal and social development and the need for a wheelchair van is now a necessity.
The intention of Kiley Anne's Mobility Fund is to raise money for a wheelchair accessible van to be sure that Kiley Anne gets safely back and forth to school as well as her many doctors appointments with Children's Hospital in Boston.
Our hope to assist other families in need each year with this fund so thank you for your support!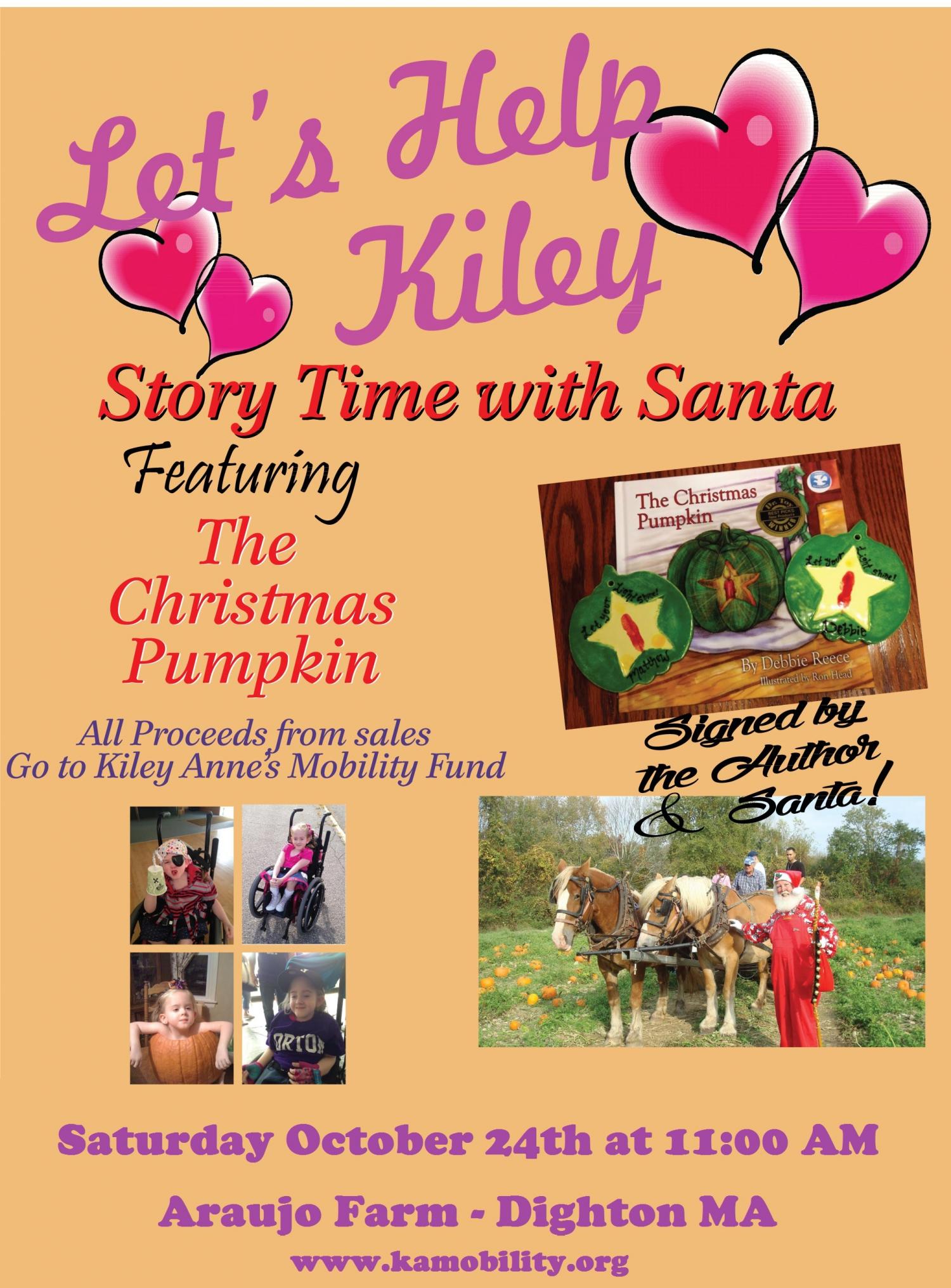 NEWS
Come join Kiley at Araujo Farm in Dighton MA EVERY WEEKEND this month! Kiley Anne's Mobility Fund has partnered with Araujo Farm and SANTA CLAUSE to bring you the very special story of the Christmas Pumpkin, by Debbie Reece. All proceeds from the sale of the book at the farm will go directly to Kiley!
Santa will be going on hay rides with the families out to pick their own pumpkins so head on over to Araujo Farm and get your pumpkins as well as a copy of the book!
Special reading of "A Christmas Pumpkin" will be Saturday, October 24th at 11am, DONT MISS IT!
---
We had a great time with the golf tournament, thank you to all those who contributed and came out to play! We look forward to next year being much bigger! Should have pictures up soon!
---
Just a few days out and we are still in need of golfers! Sign up at least 2 and you will receive a BIG discount! Call or email NOW!!! Don't miss this great day of golf and fun to help out this amazing little girl!
---
We are now less than a week away and still have plenty of room for golfers! If you have not registered please do so today! email
info@kamobility.org
or call Steve at 781-472-9670 and we will get you signed up!
Anyone who would like to attend the dinner only as well as the silent auction can register as well so don't delay!
We are also working on an event for October as well as an Event with Santa this season! Please check back for updated information comming soon!
Due to scheduling conflicts, we had to change the date of the golf tournament to
Monday, September 28th at noon.
This will give everyone time to get registered. If you have not registered yet, please do so today! Email
info@kamobility.org
or fill out your info on the
golf tournament
page. We need to fill this tournament up so please don't hesitate to pass this info on and bring friends!
We are also hoping to fill up the dinner after the tournament with those who don't golf! Come join us for dinner at the Norton Country Club and take part in our fabulous silent auction! To register for Dinner Only email
info@kamobility.org
today!
Thank you to everyone for your continued support!
1st Annual Kiley Anne's Mobility Fund Golf Tournament
Join us for the fisrt annual Golf Tournament! September 28th at the Norton Country Club!
There are several golfer spots and sponsorship opportunities available so contact us NOW! We are also looking for donations to the silent auction as well such as tickets, gift cards etc. Donations are being accepted directly through Rockland Trust in Attleboro MA as well.
May 25, 2015 - Donations can be sent directly to the fund through Rockland Trust in Attleboro, MA. Please make all payments out to Kiley Anne's Mobility Fund and mail to:
Kiley Anne's Mobility Fund
c/o Rockland Trust
490 Pleasant Street
Attleboro, MA 02703
or
Kiley Anne's Mobility Fund
PO Box 731
Attleboro, MA 02703
We have had many requests to set up a GoFundMe account so for those who can't attend the golf tournament and would like to donate online quickly, the link is below. Thank you to everyone!!